Soccer Kick Throw Trainer Waist Belt
$14.99
Kick up your soccer game with the Soccer Kick Trainer. This all-in-one training device helps you perfect the skills of shooting, passing, receiving, juggling, ball control, and throw-ins to take your game to the next level.
With its lightweight design and adjustable straps, it is easy to use for both kids and adults. Bring your A-game with the Soccer Kick Trainer.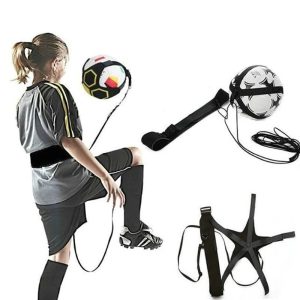 Made from 100% high-quality materials, this trainer is designed to help you take your soccer game to the next level quickly and easily. Unleash your potential today with the soccer kick trainer.
With an adjustable waist belt & secure elastic strap to tie the ball firmly, you'll be able to focus on developing your skills without having to worry about discomfort or the ball slipping. Improve your game and take your soccer game to the next level with our top-notch soccer kick trainer.
Free shipping on orders over $50!
Satisfaction Guaranteed
No Hassle Refunds
Secure Payments
Description
Get the kids in the game with this Soccer Kick Trainer. Perfect for solo training, this kid-friendly accessory provides an easy and fun way to perfect their kicking skills.
With its adjustable circling belt, this trainer fits comfortably around your waist and enables you to practice juggling and ball control without having someone else on the field.
This revolutionary equipment is designed to help kids and adults alike refine their soccer kicking technique and principles. It's a great way to practice solo or with friends, and perfect for both beginners and experienced players.
Specification:
Material: Nylon (elastic)
Color: Black
Tile length: 2.5m/8.20ft
Stretch length: 5m/16.40ft (max.)
Quantity: 1pc
Package Content:
1x Soccer Kick Trainer
Related posts